MONUMENT AT THE ALLATOONA PASS BATTLEFIELD NEAR CARTERVILLE, GA HONORING THE WISCONSIN SOLDIERS WHO FOUGHT AT ALLATOONA PASS: Tent #23 has sent donations to the Etowah Valley Historical Society who is partnering with the SUVCW and DUVCW of Georgia and South Carolina to place a monument at the Allatoona Pass Battlefield near Carterville, GA honoring the Wisconsin soldiers who fought at Allatoona Pass on 5 October 1864. The 18th Wisconsin Infantry and the 12th Wisconsin Independent Light Artillery were involved in this battle. Monuments have already been erected to commemorate the involvement of regiments from Illinois, Iowa, Minnesota and Ohio. The Wisconsin monument which is the final one will be made of Wausau red granite which is a native stone of the state of Wisconsin. Plans are being made to complete this project and dedicate the Wisconsin monument in the fall of 2014, ideally on October 5th. Our sister tent, Amanda Stokes Detached Tent #2 of Alpharetta, GA has extended an invitation for us to attend this historic event. Click on image to enlarge.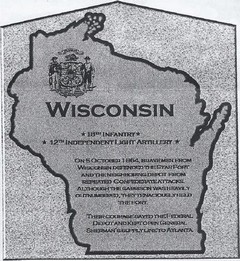 CONTINUED SUPPORT FOR THE RESTORATION OF THE 1870 CIVIL WAR MONUMENT: To continue to support the restoration of the 1870 Civil War Monument located in Spring Grove Cemetery in Delavan, Tent #23 is considering hosting a cemetery walk to raise needed money. Plans are underway to host this event in June. Re-enactors will portray our Civil War history to include our namesake, Mary Chesebro Lee, her son and Union soldier, Elon Lee, and Mrs. John Brabazon and Mrs. H.O. Johnson who were Civil War widows. In addition, the chairman of the Delavan Civil War Monument, Ken Wargo will be on the tour to discuss the monument and the restoration process. Sister Zoe Woelky, whose great grandfather fought for the Union and is buried in Spring Grove will share their unique family history. We even plan to include 19th century circus history in the walk since several of the circus performers also fought for the Union.
DELAVAN CIVIL WAR MONUMENT RESTORATION PROJECT: Tent #23 is engaged in an ongoing project to assist with the restoration and preservation of the 1870 Civil War monument located in Spring Grove Cemetery, Delavan, Wisconsin. Tent #23 is providing financial assistance for this project as well as assisting with educating local students on the importance of Civil War history, patriotism, and the blessings of the freedom and liberty that we enjoy while living in the United States of America. We have also assisted in a promotional video for YouTube. Three of our sisters are members of the committee that head-up this project under the direction of chairman, Ken Wargo. To see the work that has already been done, click here.

UPDATE: We have the newest video showing the before and after work that has been done on YouTube. There is still a lot of work to be done.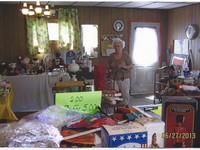 TENT #23 RUMMAGE SALE FOR DELAVAN CIVIL WAR MONUMENT RESTORATION: In an effort to offer continued support for the restoration of the 1870 Delavan Civil War Monument in Spring Grove Cemetery, Tent #23 had a garage sale in late June 2013 which raised substantial funds enabling the "Daughters" to donate an additional $500.00 toward preservation efforts. In addition to the garage sale, a booklet regarding the history of the monument is on its way to press. Notecards and postcards of the monument have been designed and are also for sale to raise additional funds. Click on image to enlarge.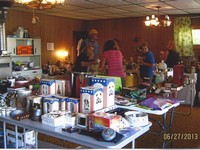 DELAVAN CIVIL WAR VETERAN'S GRAVESITE IDENTIFICATION, REGISTRATION AND GAR MARKER REPLACEMENT PROJECT: Tent #23 is actively identifying and registering Civil War burials in Delavan's cemeteries; Old Settler's Cemetery, Spring Grove Cemetery, St. Andrews Cemetery, and East Delavan Union Cemetery. The burials are being registered on the Sons of Union Veterans national database. Virgil Matz, Black Earth, WI and a member of the SUV is assisting the tent with data input on the national web site. To date we have identified 207 Civil War burials in these cemeteries. Of these burial sites, 46 do not have GAR markers in place. A long time goal is to replace these markers to honor our ancestors.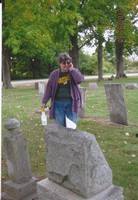 ADOPT A CIVIL WAR VETERAN: In conjunction with the location of Civil War burial sites, we have found five graves in the Spring Grove cemetery that are without headstones. Tent #23 members have adopted these Civil War veterans without headstones, are researching their genealogy, and applying for government issue headstones for these men.
TRANSITIONAL HOUSING PROGRAM FOR HOMELESS VETERANS: Tent #23 supports the newly established transitional housing program for homeless veterans in Janesville, Wisconsin. Established in April of 2011, the facility has capacity for a total of 48 male clients who are homeless veterans. The facility provides housing, 3 meals a day, educational opportunities, employment services, as well as medical, counseling, and psychiatric services through the Veterans Administration. We donate much needed clothing, shoes, sundries, toiletries, and books to the facility on a regular basis. See pictures below.
PAM'S PROJECT: Sister Pam Johnson, current secretary and press correspondent for Tent #23 has produced and published a book on the formation and history of the tent from inception through our first few months. She has donated the proceeds of the sale of these books to the tent to assist with our many projects. Click here to view the pages of the book.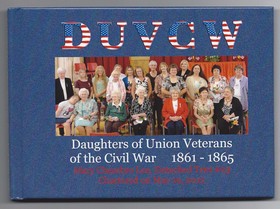 75th ANNIVERSARY COMMEMORATION OF THE DUVCW BENCH AT CAMP RANDALL MEMORIAL PARK: While it was a short term project, Tent #23 along with sister tents, Cordelia A.P. Harvey Detached Tent #21 of Manitowoc, WI and the Mary Hutchins Detached Tent #22 of Milwaukee, WI came together to commemorate the 75th anniversary of the DUVCW bench at Camp Randall Memorial Park in Madison, WI. Camp Randall was a Union Army training facility during the Civil War for more than 70,000 recruits. Later, a hospital and stockade for 1,400 Confederate prisoners of war was located at the camp. On June 30, 2012 the daughters honored our ancestors by commemorating the 75th anniversary of the original bench dedication which occurred on September 5, 1937. The bench was erected by the daughters as a tribute to our fathers, the Grand Army of the Republic. See pictures below.
MEMORIAL DAY: Tent #23 has vowed to participate in Delavan's Memorial Day Parades and wreath laying ceremony at the Spring Grove Cemetery on an annual basis. 2012 marks the first year the DUVCW has placed a wreath at the Civil War monument since 1930. The daughters also participated in all patriotic parades held in the city.
MONTHLY NEWSLETTER:Mary Chesebro Lee Detached Tent #23 produces a monthly newsletter. If you wish to obtain an electronic copy of this newsletter, please contact blackmerpa@aol.com.
All photos printed with permission.